European wellness signs MOU to strengthen medical tourism into Malaysia and develop advanced biological regenerative medicine in UAE.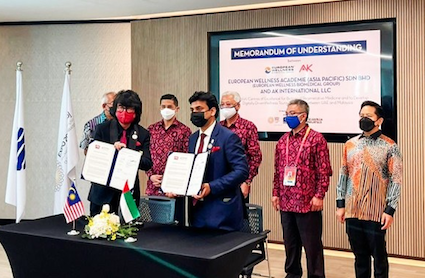 Image credit: prnewswire
European Wellness Biomedical Group (EW Group), through its Malaysian subsidiary European Wellness Academie, and Dubai-based healthcare distribution and technology group, AK International LLC, have signed a Memorandum of Understanding (MOU) that aims to strengthen the medical tourism linkages and access to Biological Regenerative Medicine services in the United Arab Emirates and Malaysia.
The strategic collaborations seeks to setup two Centers of Excellence, one specializing in the rehabilitation, education and holistic management of pediatric neurodegenerative and neurodevelopmental disorders such as Autism Spectrum Disorder, Cerebral Palsy, Down Syndrome and Global Developmental Delay, and another specializing in the management of untreatable and rare diseases such as CHARGE Syndrome, Multiple Sclerosis, Rheumatoid Arthritis, Parkinson's Disease etc.
EW Group and AK International are also looking into the development of a technology driven 'Digital Wellness Service Corridor', in the form of an AI-driven application pioneered by AK International's subsidiary Artelir Inc. that shall seamlessly connect patients from United Arab Emirates with healthcare service providers in Malaysia.
The partnership is also set to explore potential investments into Iskandar Malaysia Development Area in Johor for the development of a world-leading Halal Hub for Biotechnology and Regenerative Medicine. The unique development project valued at $60million shall comprise a 100-bed integrative medicine hospital modelled after EW Group's medical facility in Germany, Muslim-centered aged care retirement villas and assisted living apartments, and a GMP-certified halal biologics and botanical drug manufacturing facility.
Source: BioSpectrum