Count Stryker among the big medical device companies that have pioneered the transition toward digital, becoming medtech companies offering an array of software and services around their products.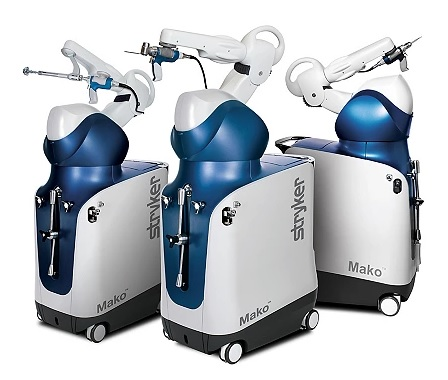 Image couresy of Stryker
The company's popular Mako robotic surgery systems are more than just the robot when it comes to knee and hip surgeries. There's the preoperative data modeling and planning. Plus, software and displays assist the surgeon with navigation during the surgery.
It is but one of the examples of the journey the world's largest orthopedic device company has been on when it comes to improving outcomes through digital technology. Come to DeviceTalks Boston — May 10–11, 2022 — and discover more about how Stryker is accelerating its delivery of these technologies through organic innovation and M&A.
A panel of leaders from the company will discuss industry trends and breakthrough technologies. What does heightened focus on digital potentially mean for medtech?
Panelists from Stryker will include:
Spencer Stiles, group president, Orthopaedics and Spine;
Siddarth Satish, VP, Digital Innovation for Surgical Technologies;
Dave Lively SVPof Product Management, Vocera (now part of Stryker);
Robert Cohen, president, Digital, Robotics, and Enabling Technologies;
Tracy Robertson, VP, Digital, Stryker.
Source: MassDevice
-
In accordance with Medical Device Authority (MDA Malaysia Ministry of Health, Malaysia), MyMedicNews serves as the leading online media in the medical device industry for Malaysia and the ASEAN region. We provide a creative one-stop web portal to deliver the latest news and product development in the medical device industry. Through our portal, key industry players can deliver business information, product, and services effectively to relevant target audience.
Disclaimer: All content is for informational or educational purposes only, and does not substitute professional medical advice or consultations with healthcare professionals. Medical device advertisements and their content are intended for Healthcare Professionals only. More information related to Malaysia medical device news, products, registration, and regulations is available on Medical Device Authority.