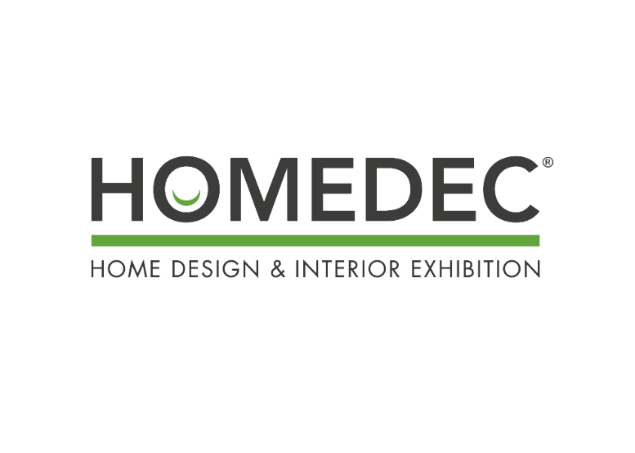 HOMEDEC OPENS AT KLCC ALONGSIDE THE INAUGURAL AGEXPO TO INSPIRE NEW WAYS OF LIVING
KUALA LUMPUR, 13 May 2022 — Want to know what is in the market that is new to increase your awareness and knowledge about ageing or a senior's lifestyle and living? This exhibition is for you if you are a senior citizen or if you have an elderly parent, friends or family members. Plus, there are many products to source too, for every home design and interior needs across the four days!
From 13 - 16 May, HOMEDEC (Home Design & Interior Exhibition) and its concurrent exhibition - AGExpo (ASEAN Senior Care & Wellness Expo) is happening at the Kuala Lumpur Convention Centre.
HOMEDEC is always about bringing new themes and concepts to current home owners and for those who have just received keys to their respective homes, this is where they will also make the best #HOMEDECisions; for ideas or inspirations, knowledge and best deals! This edition also brings about the concept of multi-generational living needs through HOMEDEC and AGExpo.
According to a recent survey by the Valuation and Property Services Department (JPPH), the local property market recorded about RM87 billion and this value will create an estimated RM43.5 billion worth of renovation value.
C.I.S President and Organiser for both HOMEDEC and AGExpo Dato' Vincent Lim says:
"It is now a great time to introduce this expo as we continue to see the trend for multi-generational homes that caters to the needs of the sandwich generation which are people who are raising children while at the same time, caring for their elderly members at home".
"AGExpo aims to showcase and share examples, ideas and inspirations of how to live healthily even as we age. The exhibition that is held alongside HOMEDEC is an ideal platform for us to showcase the successful management and integration of life for the elderly," Lim continues.
Baby boomers, which refer to those born between 1946 and 1964, have become senior citizens as the number of people over 65 years in Malaysia are projected to triple from 2 million today to over 6 million by 2040. Members of the community aged 80 and above are projected to increase from 0.3 million to nearly 1.4 million by 2040.
In less than 20 years there will be three senior citizens for every 20 people of the Malaysian population.
AGEXPO 2022 is organised as a semi-trade exhibition with the aim of increasing awareness and knowledge on elder care living and wellbeing to promote a high quality of life at every age. It will showcase best practices in professional services in caring for the elderly gleaned from recognised industry experts in Malaysia and abroad.
Carefully curated health and wellness equipment are also displayed as examples of practical applications and management to expose homeowners on various ways in caring for elderly members of their family.
"Together with the National Council of Senior Citizens Organisations Malaysia (NACSCOM), we see the need for such an exhibition. We love the idea of AGExpo, as it shines a light on the positive aspects of aging. Today, there are so many ways for aging members of our society to care for their health so that they live strong, useful lives and also for their carers to have the knowledge, skills, and tools to manage aging issues. AGExpo helps to inspire critical discussions on the needs of the elderly", Lim added.
NACSCOM Deputy President, Co-Organiser for AGExpo Datuk Dr. Soon Ting Kueh says: "Ageing gracefully as they say is full of positivity. Today, people live longer, healthier, and more vibrant and meaningful lives than ever before with the increasing quality of living. In the past, aging equates with negative connotations. But now, we have a massive market segment of silver-haired tourists and consumers who are determined to live well and with purpose."
"There are so many ways for aging members of our society to care for their health to live healthy, useful lives and for their carers to have the knowledge, skills, and tools to manage aging issues and AGEXPO aims to help inspire critical discussions on the needs of these elderly," Soon said.
Also at the opening was the Malaysian Convention & Exhibition Bureau (MyCEB) Chief Operating Officer, En. Noor Ahmad Hamid: "I believe we will continue to witness many activities happening here at AGExpo and I look forward to see AGExpo to position Malaysia as the potential Business Event Gateway for the Silver Hair Economy in ASEAN".
AGExpo includes a series of discussion in the 'Expert Says' sessions along with Senior's Performance will also be held concurrently at its activity centre.
A key highlight in both HOMEDEC and AGExpo is the signature Show Home featuring a life-sized Senior Lifestyle and Living Show Home Design, in partnership with HISTRONG Design (M) Sdn. Bhd and Product Display Sponsors: Agrow Corporation Sdn Bhd, Create CIL (M) Sdn Bhd, Getha Bedding (M) Sdn Bhd, Inovar Resources Sdn Bhd, LG Electronics (M) Sdn Bhd, Moscule Design Sdn Bhd, NSB Lighting Sdn Bhd and Pinang Medical Supplies Sdn Bhd. The Show Home will inspire visitors with its combination of simplicity, style, and practicality that leverages on technology and modern devices to meet the needs of the family.
Carefully curated fittings, fixtures, and furniture will cater to the young and the elderly to simplify daily chores and to ease management for caregivers. Aged care experts are on hand too to help explain the benefits of implementing various solutions in meeting the different challenges and needs.
Both HOMEDEC and AGExpo will open its doors to welcome home enthusiasts for a convenient one-stop sourcing marketplace. During the four-day exhibition, visitors can also expect to find HOMEDEC's design tips from its ID experts in the ID Clinics, great deals and special offers for their home and interior decoration needs from a vast selection of choices in electrical appliances, furniture, and other solutions from exhibitors and renowned quality brands – all under one roof, be it from the kitchen to the living room, bed room or home office or seniors' lifestyle.
Visitors can also experience activities and enjoy rewards such as:
HOMEDEC Door Gift
Visitors who visit HOMEDEC, will stand a chance to receive a door gift: one (1) packet of 400g rice courtesy of Jasmine Food Corporation S­dn Bhd, or one (1) 50ml Hӧum Hygiene Hand Sanitizer courtesy of Hӧum Malaysia on a first come first served and while stocks last, daily.
HOMEDEC Register and Visit
Visitors who register and visit HOMEDEC, stands a chance to win one (1) PerySmith Multi Cooker and one (1) Ravo Ionmax Negative Ions Window Film, courtesy of PerySmith and Myhome Trading Sdn Bhd, terms and conditions apply.
HOMEDEC Best Deals
Offers irresistible promotion and deals on home design and interior decoration needs, including electrical appliances, furniture and solutions from reputable exhibitors and renowned quality brands.
HOMEDEC Special Gift
Visitors who spend RM500 and above in a single receipt stands a chance to receive a box of Durio 3 Ply Disposable Protective Face Mask or Durio 3 Ply Surgical Face Mask when they submit their receipt transacted at HOMEDEC. Courtesy of Durio PPE Sdn Bhd, on a first come first served and while stocks last, daily.
HOMEDEC Contest - 'Oh My Draw'
Visitors who spend RM800 and above in a single receipt can participate in the Oh My Draw Contest to stand a chance to win a host of products, vouchers and even cash prizes when they submit their receipts transacted at HOMEDEC. HOMEDEC Contest Grand Prize Sponsor is courtesy of: SwissAire with a mattress worth RM14,000 and the Special Prize Sponsors are courtesy of: Cuckoo International (Mal) Sdn Bhd, Crownlivin, Eastman house by Aerofoam Manufacturing (1969) Sdn Bhd, Futureaire Sdn Bhd, Hӧum Malaysia, King Koil, LG Electronics (M) Sdn Bhd, LG PuriCare™, Lorenza Ceramica, Mattress Outlet Premium Sdn Bhd, Myhome Trading Sdn Bhd, NSB Lighting Sdn Bhd, One KD Home Sdn Bhd, PerySmith and Therapedic.
HOMEDEC Strategic Partner – CUCKOO International
Driven by the passion to deliver beyond standards for healthy home solutions, CUCKOO is here to showcase innovative products that stems from healthy home pillars to deliver different aspects of a healthy home with appliances, beauty, lifestyle products and home care services.
HOMEDEC Strategic Partner – LOCKIN Malaysia
LOCKIN Malaysia is bringing in a smart home system that seamlessly integrates home security with comfort and convenience. Striving to make home security affordable for everyone, the high-end digital lock X1, S30 and 2X Pro is available for outright purchase or on a rent-to-own basis from as low as RM69 per month.
Feng Shui Talk by Master Suyen Lim
Visitors can get knowledgeable insights and inspiration from Master Suyen Lim from her talk about "Feng Shui for an Auspicious Home".
LG Electronics Malaysia Snap & Win Contest
Visit LG exhibition stand to participate in the 'Snap & Win' Contest for incredible prizes and exciting promotions. LG Electronics will showcase its latest line-up of home entertainment and home appliances: LG QNED Mini LED TVs and LG InstaView Door-in-Door™ Refrigerators. Featuring the LG ThinQ apps, home owners can easily control, manage, and diagnose their smart home devices using a smartphone.
Visitors are encouraged to RSVP https://bit.ly/HD22KL1PR prior to attending the exhibition.
SOPs will be in place during the exhibition in accordance to the requirements by the Malaysian Ministry of Health.
Contact for Media Inquiries:
Cherie Yeong
Manager A&P (MARCOM)
C.I.S Network Sdn Bhd
+6012 344 9902
About HOMEDEC
Since opening its doors in 2003, the pioneering HOMEDEC (Home Design & Interior Exhibition) has been the marketplace to every smart home owner's #HOMEDECision — guiding and providing them with the latest tips, trends, innovative ideas and knowledge on quality home décor and designs for their dream homes.
Growing with Malaysians over the years, HOMEDEC is always about bringing new themes and concepts to home owners. This is where they will experience and gain knowledge or insights from industry experts and exhibitors so, they can make the best home decisions alongside more rewards and best deals.
About AGExpo
Recognising the needs to focus on the demands of elderly care as the Malaysian ageing population continues to grow, The ASEAN Senior Care and Wellness Expo (AGExpo) organised by C.I.S and co-organised with NACSCOM is a first in Malaysia exhibition specially tailored to open its doors to families and senior citizens aged 60 and above to discover and connect with the aged care and silver hair market industry.
The exhibition focused on the well-being and needs of the elderly, aims to provide knowledge and feature a series of discussion by inspirational speakers in its conference and forums as well as to introduce long-established and emerging products and service providers in the professional field of aged care, lifestyle, wellness and healthcare industries to the families and senior citizens of Malaysia.
About C.I.S Network Sdn Bhd
Formed in 1994, C.I.S is an established regional trade and lifestyle exhibition organiser based in Kuala Lumpur, Malaysia.
The acronym of its name stems from Concept, Innovation and Strategy. Its vision is to deliver its commitment to its clients through a shared vision and strategic partnerships in creating high powered, multi-pronged exhibitions.
The company continues to build a strong reputation in the Business Events – BE (MICE) industry to organise flagship, trade and lifestyle exhibitions in Malaysia such as ARCHIDEX, HOMEDEC, RiX, AGExpo, ITEX and Indterior and ARCH:ID in Indonesia and many more.
About National Council of Senior Citizens Organisations Malaysia (NACSCOM)
NACSCOM is an organisation established in Malaysia which represents the senior citizens community in Malaysia. NACSCOM has been actively involved in promoting as well as supporting the welfare and wellbeing of senior citizens in Malaysia. Registered with the Registrar of Societies on 14th July 1990, NACSCOM now has 40 affiliates from all over Malaysia with close to 20,000 members.