BULETIN MUTIARA: Georgetown, 1 Dec 2022 – The medical device industry in Malaysia has grown significantly over the past 30 years. Association of Malaysian Medical Industries (AMMI) chairman Andy Lee said Malaysia is now considered one of the world's top offshore manufacturing hubs for medical devices, alongside Puerto Rico, Ireland, and Costa Rica.
"Ten out of the top 30 global medical technology companies have set up manufacturing footprints here in Malaysia.
"Today, over 290 medical device manufacturing companies make up Malaysia's vibrant medical device industry, undertaking a range of activities – from serving as regional headquarters and manufacturing to research and development," he said in his speech during the Malaysia MedTech Industry Summit 2022 at Ascott Gurney Penang today.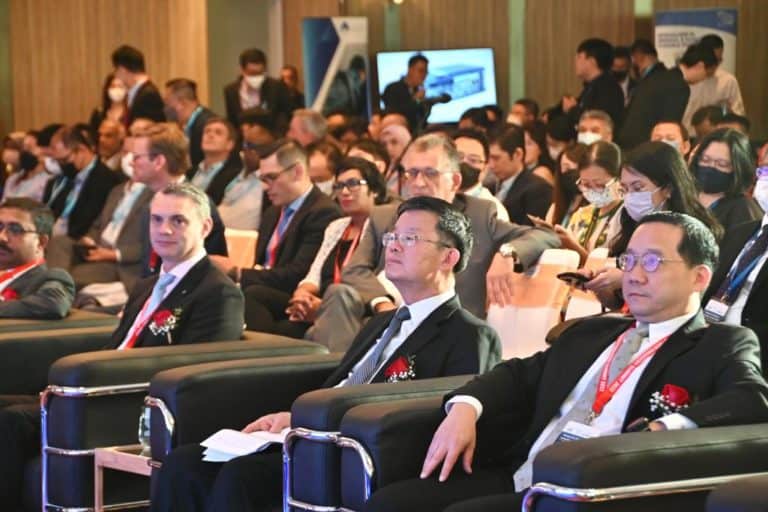 Lee said the objective of the summit was to provide a platform for the MedTech industry to share its best practices and to strengthen the medical device ecosystem.
"We hope that the summit will also serve as a platform for local suppliers to connect with medical device manufacturers," he said.
In his brief introduction about AMMI, Lee said the association was established in 1989 and has been recognised as the voice of Malaysia's medical device industry.
"AMMI's vision is to make the country the preferred global manufacturing and services location for medical technology.
"AMMI is represented by 83 members of reputable multi-national and local companies involved in developing and manufacturing medical device products, components and equipment that support the MedTech industry, and medical services in Malaysia.
"Collectively, our association members account for more than 50% of the country's total export revenue for medical devices, employing over 39,000 workforces.
"As of today, AMMI members have invested over RM10 billion in cumulative investments, demonstrating our confidence in Malaysia," he said.
Chief Minister Chow Kon Yeow said it was heartening to see the medical device industry players working closely together, facilitating knowledge transfer and insights within the industry.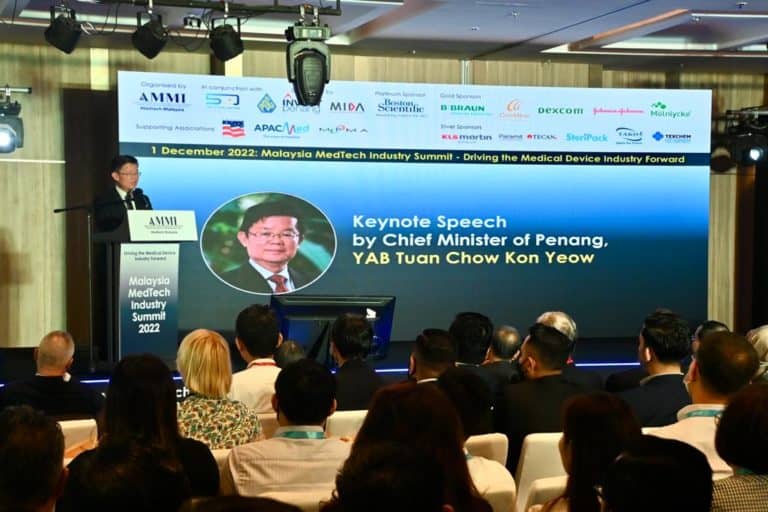 Chow delivering his keynote address.
"This is essential to promote and strengthen service excellence in the MedTech industry and to pave the way to a sustainable future for Malaysia.
"The advances in the MedTech industry are mankind's best bet for the future. The industry's resilience in the battle against Covid-19 has been exceptionally evident during the pandemic. The ever-growing digital pillars – the Internet of Things (IoT), Big Data, and Artificial Intelligence (AI) – have added significant value and accelerated transformation in the MedTech industry.
"There is no doubt that the future of the MedTech industry is looking bright," he said.
Referring to the AMMI Medical Device Industry Status and Outlook 2021/2022 report, Chow reiterated that 10 out of the top 30 global medical technology companies have set up manufacturing footprints in Malaysia.
"And Penang is housing six of them from the list!
"Having the highest concentration of MedTech companies in Malaysia and Southeast Asia, Penang remains a highly attractive location for its infrastructure availability and ecosystem that meet the needs of the MedTech industry," he added.
Chow said the Penang government would focus on ensuring sustained growth in the MedTech industry.
"The state is cognisant of the need to embrace innovation and connectivity to stay relevant and to excel.
"We acknowledge the importance of the tripartite public-private-people partnership to not only make Penang achieve a high-income economy but also create quality jobs for Penangites and Malaysians alike.
"On this note, I wish to assure all investors that the Penang government, through InvestPenang, Penang Development Corporation (PDC) and other relevant agencies, with the support from Malaysian Investment Development Authority (Mida), is committed to providing unwavering support to the investors," he said.
Also present at the summit were Chow's special investment adviser Datuk Seri Lee Kah Choon, InvestPenang chief executive officer (CEO) Datuk Loo Lee Lian, and Mida deputy CEO Lim Bee Vian.
Story by Christopher Tan
Pix by Alissala Thian
Source: AMMI
-
In accordance with Medical Device Authority (MDA Malaysia Ministry of Health, Malaysia), MyMedicNews serves as the leading online media in the medical device industry for Malaysia and the ASEAN region. We provide a creative one-stop web portal to deliver the latest news and product development in the medical device industry. Through our portal, key industry players can deliver business information, product, and services effectively to relevant target audience.
Disclaimer: All content is for informational or educational purposes only, and does not substitute professional medical advice or consultations with healthcare professionals. Medical device advertisements and their content are intended for Healthcare Professionals only. More information related to Malaysia medical device news, products, registration, and regulations is available on Medical Device Authority